Just two download games hit Europe this week and not one of them is new.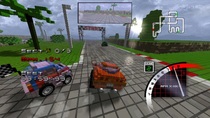 European gamers can look forward to two new games that will hit the download services on thursday.
On WiiWare, players will be able to download 3D Pixel Racing from Microforum. The racer features a distinctive retro 3D look, along with 10 tracks, 11 cars, and 10 pilots to choose from. There are various game modes to boot like Capture the Flag, Hot Pursuit and Time Trial. 3D Pixel Racing will set you back 500 Points.
DSiWare enthousiasts will have Anonymous Notes: Chapter 1 - From The Abyss to keep them busy this week. The RPG takes place in a monster-filled dungeon where players must ultimately fight a powerful boss. The game offers replayability through randomly generated dungeons. Combat includes the Soul Capture move, which allow you to steal weapons and magic from your enemies. Anonymous Notes is yours for either €2.00/£1.80 on the Nintendo eShop or 200 Points on the Nintendo DSi Shop.