Four players can take on the role of the pink blob in the upcoming Wii adventure.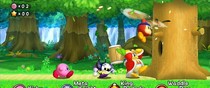 Up to four players can play as Kirby in Kirby's Return to Dream Land, Nintendo of Europe confirmed today.
While it was commonly known that the game would feature four-player platforming similar to New Super Mario Bros. Wii, it was believed that players could only play as one Kirby, leaving the rest of the characters to be filled by series regulars like Meta Knight and King DeDeDe.
Each player will now be able to take control of a different colored Kirby, complete with the copy ability. They can also drop in and out whenever they please, so theoretically, players can switch between Waddle Dee and a yellow Kirby any time they please.
Kirby's Return to Dream Land is set to be released in Europe in December, where it is called Kirby's Adventure Wii. It will come out this year in other regions, but the specifics aren't set yet.