Kirby, Dragon Quest and Professor Layton headline the DS releases in Europe.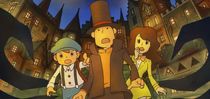 Dragon Quest Monsters: Joker 2, Kirby Mass Attack, and Professor Layton and the Spectre's Call now have October release dates in Europe thanks to today's announcement by Nintendo.
Dragon Quest Monsters: Joker 2, the sequel to the Dragon Quest monster training spin-off, is the first out of the game as it releases on October 7.
Kirby Mass Attack will be released on October 28. The game has players using the touch screen to direct multiple Kirbys in order to complete levels.
Finally, an October release date has been given for Professor Layton and The Spectre's Call. The fourth game in Level-5's Layton series, Spectre's Call is a prequel to the first game, The Curious Village, where it chronicles how Layton met Luke and how he became the Professor's apprentice.