The two epic titles from Japan will arrive in Europe next year.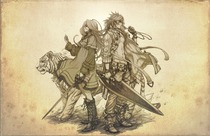 The Last Story and Pandora's Tower will release in Europe in 2012.
The two titles released earlier this year in Japan to positive reviews from Japanese media. These two titles are two of the targets of Operation Rainfall, an attempt to bring the English localized versions of the game to North America. As of right now, there are no plans to bring The Last Story or Pandora's Tower to the North American market.
A few new screens of Pandora's Tower are available in our gallery.