Listen! Skyward Sword is coming out in November.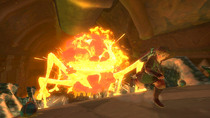 The Legend of Zelda: Skyward Sword is coming out in North America on November 20, and in Europe on November 18, according to a press release from Nintendo.
The press release reiterated that the game's story is the precursor to Ocarina of Time, which recently saw a 3D remake on the Nintendo 3DS in June.
There is no word as to whether or not Skyward Sword, which requires the use of Wii MotionPlus, will come bundled with a MotionPlus device, much like previous MotionPlus-required games (Red Steel 2, Wii Sports Resort, FlingSmash, Wii Play Motion). At E3 2011, Nintendo revealed a Zelda-inspired gold Wii Remote Plus, but it is unknown how that will be distributed.
A Japanese release date was not confirmed, but given Nintendo's earlier hopes for a worldwide release, it's safe to assume that Japan will be receiving Skyward Sword around the same time, if not earlier.