The new design is meant to sit horizontally and comes in a two-game bundle.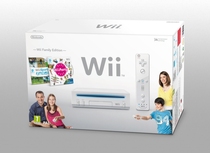 A new streamlined version of the Wii will be releasing in the United Kingdom before Christmas.
The console is meant to sit horizontally, with the vertical stand of the original version eliminated. The new system also removes backwards compatibility with GameCube software and accessories.
This new Wii will be sold as part of a new family bundle, which will include Wii Sports and Wii Party, along with a Wii Remote Plus and Nunchuk.