The trailer unveils a new area in the mountains and a new antagonist.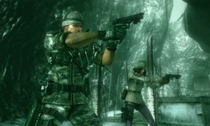 Capcom released a new trailer for Resident Evil Revelations at Gamescom 2011. The trailer focuses on Chris Redfield, his partner Jessica Sherawat, and a terrorist organization known as Veltro.
Along with the trailer, Capcom also debuted two new gameplay videos which show Chris fighting undead dogs as well as searching through the wreckage of a crashed airplane.
The videos are embedded below: