Now the girls of DoA can spot new looks courtesy of SpotPass.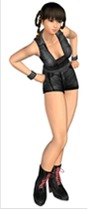 Tecmo has announced the dates of the next set of downloadable costumes for Dead or Alive Dimensions for the 3DS.
Players who missed the original run of the downloadable costumes up to July 29 will now be able to download them. The offer will start on August 15, 2011 and will run through October 22, 2011. Each day will offer a new costume for downloading, 34 in total, for free.
Each new costume can be downloaded starting at 10:00 a.m., and will be available up until 9:00 a.m. of the next day.