Nomura promises that the game's quality is at the level of the console games.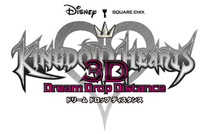 Kingdom Hearts 3D will be playable for the first time at Tokyo Game Show, series creator Tetsuya Nomura confirmed this week to Dengeki PlayStation.
Up until this moment, Kingdom Hearts 3D has only been show through teaser trailers and short snippets of gameplay. Nomura went on to state that the game's quality will be on-par to that of a console game, saying that some of the motions and abilities seen in the trailers, like running on walls, have been fully realized.
The game's development has also reached high pitch, hoping that the game is done and released by the start of the new year.
Kingdom Hearts 3D will take place after Re: Coded and will star Sora and Riku as they face several trials and conclude the Xenahort menace. Details as to what Disney worlds players can expect have been scarce, with rumors of Pixar themed worlds and an unconfirmed Hunchback of Notre Dame world floating around since the game's reveal.