Pac-Man fever and a hyperactive wildcat lead the way in this week's downloads.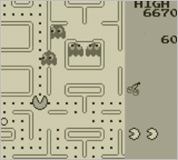 European gamers have five new titles to look forward this week to on the various online services.
Nintendo 3DS owners will be able to download the all-time classic Pac-Man from the Virtual Console service. The game will be yours for the price of £3.60/€4.
DSiWare-wise, we mostly play catch-up this Thursday. BiP's My Australian Farm, priced at 200 Points (£1.80/€2) and the overhead shooter The Lost Town: The Dust, priced at 500 Points (£4.50/€5) will finally make it out over here and can be found in the DSi Shop and the Nintendo eShop.
The only previously unreleased game in the portable stores this week is Go! Go! Kokopolo. This arcade-styled game will put you in the shoes of Kokopolo, a hyperactive wildcat who is out on revenge for the disruption of this afernoon slumber. In total there are 80 stages to boot filled with mazes, enemies and super fast gameplay. The title will set you back 800 Points (£7.20/€8).
For the final game we return to our Wiis and see if we can compete with the best in Monochrome Racing from Nordcurrent. The title offers a lot value for your 500 Points. There will be more than 80 tracks to race on and ten cars to fully upgrade and tweak as you please.