Nintendo global president gives reasons for why the price has dropped so close to launch.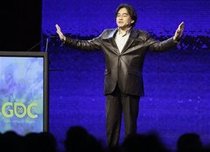 The drastic markdown of the Nintendo 3DS retail price was done at this time due to a need to increase market penetration before anticipated holiday season games are released, to boost sales to predicted levels so that it can be a sound successor to the Nintendo DS, and to reassure retailers and software publishers that the expansion of the platform will not be an issue.
Satoru Iwata made a statement at the recent first quarter financial results briefing that explained why the price drop was essential to maintain sales momentum for the handheld, as if strong momentum is not maintained, changing the situation further down the line is very difficult.
While a markdown during the year-end sales would be expected, Nintendo felt that dropping the price now, despite there being no specific software releases at this time, would have the greatest impact on game releases during the year-end.
As software publishers are now planning development on the various platforms for next year and beyond, it is important for the installed base of the 3DS to be large enough that publishers will make the plans to release software that will enrich the 3DS game library.
While discounting the hardware now, before mass manufacturing reduces hardware costs, will lead to a short-term drop in profits, the best possible measures are required to sustain Nintendo's handheld business in the long term.