Wii action RPG will see release in the land down under.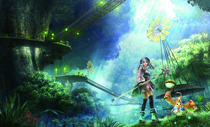 Xenoblade Chronicles is confirmed for Australian release by Nintendo Australia.
Previously rumored for release and rated by the Australian Classification Board, Xenoblade Chronicles is now slated for Australia. No release date has been given. The Monolith-developed action Wii RPG is the first of three RPG titles clamored for by Operation Rainfall, who seek their release by Nintendo of America.
The Australian release means the game will see official release across all traditional release regions except for the Americas. Check back with us for impressions from the Australian version of the game.