3DS video download service is now available on Nintendo eShop.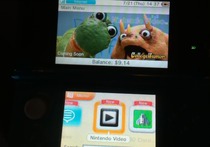 Nintendo Video, a free 3D video service for Nintendo 3DS is now available in North America. The service was announced earlier in the day as "coming soon".
Once the application is installed, videos are downloaded automatically in the background through SpotPass. Videos are stored on SD card, but are permanently replaced each week with new content. The Nintendo Video player takes up 39 blocks, while the first four videos take up 2,439 blocks.
The first four videos available are Sunday Jog (3:42), an abstract 3D short by PassmoreLab; Dinosaur Office (1:49), a stop motion-style video from College Humor; a Captain America: The First Avenger movie trailer (2:32); and the Nintendo Video announcement video (0:22). Each video, except the intro video, includes a "Like us on Facebook" button, which launches a page in the Nintendo 3DS browser.
Nintendo Video began operations in Japan and Europe last week. The videos available are unique and restricted to each region.