Six of the most famous developers in Spain promise new offerings for the 3D handheld.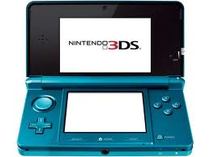 Six different development houses established in Spain have confirmed support and expressed interest in developing for the 3DS at the meeting of young developers called iDEAME, an event that took place in Spain on the 14th and 15th of July.
The first of these is Abylight, from Barcelona, best known for Elite Forces: Unit 77 and Dairojo! Samurai Defenders. The company has developed over ten titles for the DSi, and feel that the 3DS's 3D abilities will help them design games where the distance can be easily seen and enhance gameplay in the process.
EnjoyUp Games, also from Barcelona, developers of Football Up as well as Chronos Twins, are planning on porting some of their titles to the 3DS.
From Madrid is Over the Top Games, developers of the critically acclaimed WiiWare title NyxQuest. Founder Roberto Álvarez de Lara commented on the 3DS, stating that "Our first project, NyxQuest, used the Wii Remote's capabilities as being integral to the gameplay experience, and the game was a success because of it. When we saw the 3DS, we came up with new ideas for a possible platforming game on the system. All of these ideas are still in early development, but we would love to make them a reality because we believe that this new handheld will allow us to create new ways to play and enjoy the experience".
Akaoni Studio, developers from Valencia known for their WiiWare title Zombie Panic in Wonderland, has also sung the praises of the 3DS. José Manuel Iñiguez, one of the representatives from Akaoni Studios, commented that "we have been able to surprise the world with our efforts, and want to continue doing so, now in 3D. The feeling of depth caused by 3D enhanced systems, such as the 3DS, allows for an intuitive method of play." He adds that their first 3D title is related to Zombie Panic in Wonderland.
Also from Valencia is Shanblue Interactive. Their first WiiWare title, Vampire's Crystal, will also make an appearance on the 3DS. Shanblue CEO Francisco Molla, is pleased to bring their Blue-X Engine to the handheld, commenting that the 3DS will enhance the visual presentation and add depth to the style.
Finally, Delirium Games, established in Balboa and creators of the title "Los Delirios de von Sottendorff y su mente cuadriculada", will be bringing their talents to the 3DS, hoping that the 3D visuals will aid them beyond the visual presentation and create unique gameplay concepts.