Netflix finally makes its debut on the 3DS, and classic Game and Watch games invade the eShop.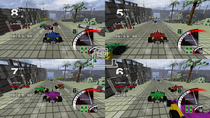 The Netflix app has finally been added to the eShop, allowing 3DS users to stream movies on the handheld. The app is free to download. Check out our detailed impressions of the service.
In terms of games, seven new ones were added to the various downloadable services. Exclusive for the eShop is Game & Watch Gallery, originally available on the Game Boy. The title is a mini-game compilation that includes four classic Game & Watch games. Along with the original versions of the games, the title also features remakes of the games featuring Mario characters. The game is priced at $2.99.
Also for the eShop is Baseball, a basic baseball title originally released for the Game Boy in 1989. It can be downloaded for $2.99.
For both the eShop and DSiWare there are four games to choose from. The first of these is Extreme Hangman 2 from Gamelion. Gameplay is based on the classic word guessing game where players must complete the word in order to save the hangman. This version of the game includes new backgrounds and words to solve. Players can download this for $1.99.
Afterzoom from Abylight is the second eShop and DSiWare game for the week. This application turns the DSi and 3DS's camera into a microscope where players can see many forms of microscopic life. It is priced at $4.99.
The third game this week is Puzzle Fever from Korner Entertainment. The game lets players solve puzzles in three different modes of play. It can be downloaded for $4.99.
The fourth and final game for the eShop and DSiWare is Just SING! The 80s Collection by dtp Young Entertainment. A karaoke app, players can sing to the classic tunes of Madonna, A-ha, and Rick Astley. Downloading this game will set players back $4.99.
The lone WiiWare for the week is 3D Pixel Racing from Microforum. The racer features a distinctive retro 3D look, along with 10 tracks, 11 cars, and 10 pilots to choose from. The weather also changes. Finally, the game allows up to four player racing using split screens. 3D Pixel Racing can be downloaded now for 500 Wii Points ($5). It is developed by the team that brought you Enjoy Your Massage.