The 8-bit inspired 3D racer will feature ten tracks, ten racers, and eleven cars.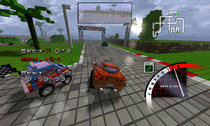 3D Pixel Racing has been given a July 14 release date for the North American WiiWare service.
The title, developed by Microforum, is a 3D racer with an 8-bit inspired look. It will features five games modes for up to four players, along with ten tracks, ten pilots and eleven cars to choose from. In addition, the tracks will experience different weather conditions like rain, snow and sun as well as night and day cycles.
The trailer below shows off the pixelized look of the game.
3D Pixel Racing has been priced at 500 Wii Points ($5). No European release date has been confirmed.