Will feature rhythm-based battles set to music from the series.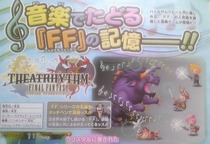 A new rhythm-action Final Fantasy title is coming to the 3DS, Square Enix announced today.
Titled Theatrhythm (short for "theater rhythm action") Final Fantasy, the game is laid very similar to a traditional Final Fantasy game, with an overworld and dungeons, except with battles played out on the touch screen by tapping in time with the music. The game's soundtrack will be pulled from previous games in the series, and will feature characters from those games in chibi form.
Square Enix did not specify when the game will be released.