A Super NES RPG powerhouse hits the Wii Shop.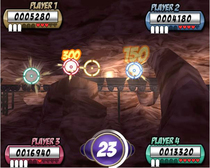 Seven new games were released across Nintendo's digital storefronts this week. The Wii and 3DS Virtual Consoles each received one game, and there were three DSiWare releases, one 3DS-exclusive eShop addition, and one WiiWare title added.
The most notable release, arguably, is Final Fantasy III for Super NES. The game, originally released in Japan as Final Fantasy VI, is considered by many to be among the finest RPGs ever released, and has been one of the most sought-after Virtual Console releases since the service launched in 2006. It tells the story of a group of rebels fighting against a dictatorship. Soon, the characters discover even more secrets behind the conspiracy, learning about themselves and the world they live in in the process. The game can be downloaded for 800 Wii Points ($8).
The other notable release for the week is Kirby's Dream Land for the eShop, the Game Boy game that introduced the world to Kirby. Resident of Dream Land, Kirby can float and suck up enemies. His most famous ability, the copy ability, however, is not in this version of the game. Nintendo has priced Kirby's Dream Land at $3.99.
Other games released this week are The Lost Town: The Dust for the eShop by Circle Entertainment ($4.99), Boardwalk Ball Toss for both the eShop and DSiWare by Skyworks Interactive ($1.99), Moto eXtreme from Chillingo Games ($7.99) Hearts Spades Euchre for the eShop and DSiWare by Cosmigo for 500 DSi Points ($4.99) and Big Town Shoot Out for WiiWare by Performance Design Products for 500 Wii Points ($4.99).