Dead or Alive Dimensions is returning to store shelves this week.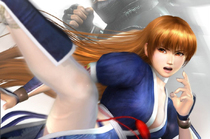 After a reclassification last week by the Australian Classification Board, Dead or Alive Dimensions is being redistributed for retail sale in Australia this week with a new M rating.
Existing copies of the well-endowed fighting game will have a new ratings sticker affixed to the packaging. The new classification warns buyers of violence and sexualised gameplay not suitable for minors.
The title launched in late May and was classified PG by the ACB. The board declassified the game less than a month later, effectively rendering it unsalable.

Expect copies to be trickling into all game retailers across Australia over the next few weeks.