The Collection will include the first three games, as well as other extras.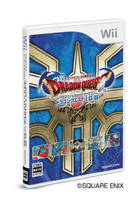 Square Enix will release a compilation of the first three Dragon Quest games on September 15 in Japan. The compilation will include the first footage of Dragon Quest X, which was originally announced for the Wii more than two years ago.
The collection includes the first three games in their original Famicom form, the Super Famicom remakes, and a few extras. The extras included will range from a reprint of the original game guides, a recreation of the series' "Small Medal" item, an art collection that will be included on the disc, and brand new anime intros for all three of the games.
There are currently no release dates for the collection outside of Japan.