The cat dog's out of the bag.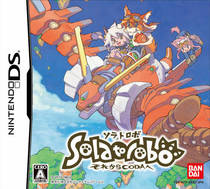 Solatorobo, the CyberConnect2-developed action RPG for the DS, is seeing a North American release this year.
The game was published by Namco Bandai in Japan, and Nintendo of Europe is bringing it over to PAL regions on July 1. However, neither Namco Bandai nor Nintendo of America will be the North American publisher.
In the title, you control a dog-man named Red Savarin who rides a robot. You travel through different areas using grappling as a primary combat mechanic.