Mario's party finally hops online.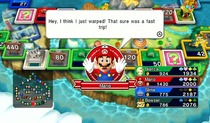 In the latest issue of Famitsu, the magazine reported that the Japanese version of Itadaki Street Wii, known as Fortune Street in North America, will feature online play over Nintendo Wi-Fi Connection.
The game features country-wide online battles only, meaning a newcomer to the series will not be able to challenge a veteran player from the Japan, where the series has been available for years.
Nintendo has announced a holiday release for the game in North America. In Japan, Square Enix will take care of publishing when it releases later this year.