Players hoping to experience the supernatural RPG on their 3DS this summer might be disappointed.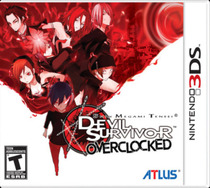 A newsletter sent by Atlus confirms that Devil Survivor Overclocked for the 3DS, once slated for a June 2011 release, has been delayed. The title now has a vague Fall 2011 release date.
Along with the delay, Atlus revealed the game's final box art.
Devil Survivor Overclocked is an updated version of Shin Megami Tensei: Devil Survivor, originally released for the DS. It is a tactical RPG where players can take control of up to four squads lead by the main characters. They summon demons into battle for support.