The price drop is accompanied by new red DS cases for Mario titles.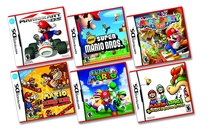 The MSRP for the Nintendo DS Lite will be lowered to $99, starting June 5, 2011, despite previous rumors that the DS Lite had been discontinued entirely.
In addition, Nintendo will be repackaging games featuring Mario with a red case to make them more easily identifiable by consumers. These titles are known for their "evergreen" sales figures, selling long after their initial introduction. The games included in this re-branding include:
New Super Mario Bros.
Mario Kart DS
Super Mario 64 DS
Mario Party DS
Mario & Luigi: Bowser's Inside Story
Mario vs. Donkey Kong: Mini-Land Mayhem
The new packaging for the Mario titles doesn't imply any change in pricing, but rather a measure of prestige for a brand which has sold 262 million games worldwide.