Chrono Trigger makes a Virtual Console splash while fishing, ghost dancing, and more carry WiiWare and DSiWare.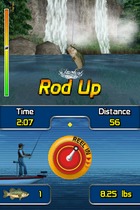 Chrono Trigger, Square Enix's vaunted Super Nintendo RPG, is the most notable title of the week, appearing on the Wii's Virtual Console. Additionally, DSiWare features three new releases, and WiiWare is populated by a new game and a new demo.
Originally released in 1995, Chrono Trigger is one of the most critically acclaimed games of all time. The story begins with protagonist Crono crossing paths with a disguised princess at a fair. Shortly after, he winds up traveling through time, and begins an adventure that spans thousands of years, featuring a cast of characters including a robot from the future, a medievil frog prince, and a cavewoman. It is available for 800 Wii Points ($8)
Gabrielle's Ghostly Groove: Monster Mix, from Natsume, is the sole new release on WiiWare. The 500 Wii Points ($5) dancing game features four-player multiplayer, and is the first release in a new series, which will see a 3DS release this summer.
WiiWare also features a free demo of Lapland Studio's Lead the Meerkats, a simulation title in which you lead a group of meerkats. The full version is available for 1,000 Wii Points ($10).
On DSiWare, Big John Games leads the way with Big Bass Arcade. The game features D-pad and stylus control methods, and a variety of fish to catch. It is available for 500 Nintendo DSi Points ($5).
Word Searcher 3, the third version of the game to hit DSiWare, brings more word-searching gameplay to DSiWare. It is available for 500 Nintendo DSi Points ($5).
The last title of the week is Hellokids - Vol. 1: Coloring and Painting, which is available for 200 Nintendo DSi Points ($2). The game features more than 150 drawings that you can color in, and also allows you to draw on photos you've taken with the system.