The game will come with a new stage and a $40 price tag.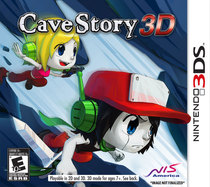 Cave Story 3D is coming out in North America on August 9 and in Europe in September, publisher NIS America revealed today.
The game was originally set for a June 28 release, according to Nintendo's Q2 2011 release schedule. There is no officially known reason for the delay.
A newly added stage was confirmed to exist in a preview on GameSpot, though details on the additional content are sparse. The game features completely revamped music and polygonal graphics. The only 3DS-exclusive feature it will take advantage of is the 3D effect.
Cave Story 3D will retail for $39.99 when it hits stores.