Nintendo's end-of-year review reveals tentative release dates for several high-profile 3DS titles.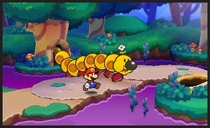 Paper Mario, Animal Crossing, Mario Kart, Kid Icarus: Uprising, and Star Fox 64 3D are all set for a fiscal year 2011 release on the 3DS, according to Nintendo's recent financial report.
Those five titles are listed as "TBA" for North America. Additionally, The Legend of Zelda: Skyward Sword is listed as a "2011" release for the Wii, somewhat confirming the new Zelda title's fall launch.
Those same titles are listed for release in Europe during the same time frame. In Japan, Super Mario for 3DS is listed as a release during this fiscal year, but it is absent from any other region. However, Nintendo's Shigeru Miyamoto recently stated that he was going to try to get the new Super Mario title out in 2011.
Line Attack Heroes, which came out on WiiWare in Japan last year, and Xenoblade, which is out in Japan and is announced for a European release, are both not on the North America release chart. They were on the chart in January.
None of these release dates are set in stone, though they do offer an indication of Nintendo's 2011 plans for Wii and 3DS.