Also, Master Quest will be mirrored and tweaked in different ways.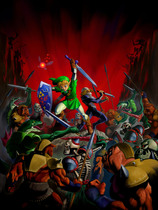 The Legend of Zelda: Ocarina of Time 3D will feature a new mode called Boss Challenge, according to a recent Nintendo of Europe press release.
The mode will let players replay boss fights one at a time, or continously. The press releases hints that it will be unlocked at a certain point in the game, but gives no clue as to whether it's after the first boss or the fifth. However, the wording does make it sound like Boss Challenge will be unlocked before the game's completion.
As previously known, Ocarina of Time 3D will also feature Master Quest as a second quest. Master Quest was originally made for the 64DD, and eventually saw release in North America as a pre-order bonus for The Legend of Zelda: Wind Waker. The version in Ocarina of Time 3D will be different than the previous version. The press release reveals that the entire game will be mirrored in Master Quest, and the enemies might be placed differently than even the original Master Quest, if the wording is correct.