Nintendo begins promotion for the upcoming Pokémon title.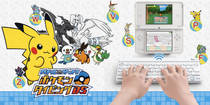 Pokémon Typing Tutor DS is set to be released in Japan on April 21, and with its release date rapidly approaching, Nintendo has sent out new content to the Wii's Everyone's Nintendo Channel to promote the title. Besides a new trailer for the game, Nintendo has also put a commercial for the game on the service.
Check out both of the videos below. More gameplay videos can be found on our YouTube channel.