The company suggests updating before contacting them for further investigation.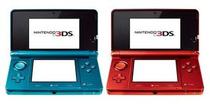 After reports of 3DS units experiencing crashes, Nintendo has recognized that there is a bug that is affecting 3DS units. The bug causes the screen to go black and tell the owner to reboot the system.
In a statement to Eurogamer, Nintendo notes that "If anyone is experiencing any problems with their Nintendo 3DS console, we recommend that... they download and install the latest system update..." If the system update fails to resolve the issue they suggest contacting your local Nintendo Customer Service Center.