Earn coins for registering your Nintendo 3DS!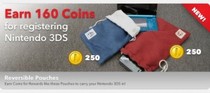 The Nintendo 3DS launches tomorrow in North America, and like past Nintendo platforms, Club Nintendo is offering coins for those who register their new handhelds.
For those who take the time to register their Nintendo 3DS with Club Nintendo will receive 160 coins after completing a short survey. These coins can be put towards a variety of prizes, including reversible pouches for the handheld. This reward, however, costs 250 points, 90 points more than the number acquired by registering the Nintendo 3DS.
In addition to registering the handheld, gamers can also redeem their Nintendo-published Nintendo 3DS games, including PilotWings Resort, Nintendogs+Cats, and Steel Diver. These games will reward players with 30 coins per title, in addition to another 10 coins for registering the game within a month of its release as well as another 20 coins for completing a post play survey. If an intend-to-buy survey was completed earlier in the year then gamers will receive another 10 coins.
Gamers that reside in a European territory that offers Club Nintendo can register both their first-party and third-party Nintendo 3DS software for stars, which can also be redeemed for rewards.