Nintendo's latest system appears lacks a dedicated application to directly communicate with other players.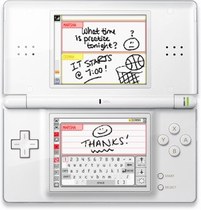 The Nintendo 3DS lacks a built in communication application, like PictoChat on the DS or the Wii Message Board.
PictoChat, which came with the DS, allows players to connect wirelessly and chat through text and drawings. The Wii's Message Board allows users to send what were essentially emails to people on their friends list.
Bill Trinen, Product Marketing Manager at Nintendo of America, has noted that there could be a messaging feature added in the future, "The goal is that there will be some messaging functions."
It is worth noting that many 3DS features, such as the eShop and the Internet browser, will not be available at launch and will become available following an update. It is possible the messaging functionality may be included in a similar update