Square Enix has launched a new teaser website promoting the Dragon Quest spinoff's introduction to 3D gaming.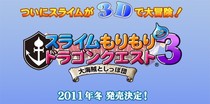 A sequel to Dragon Quest Heroes: Rocket Slime (itself a sequel to a Japan only GBA title) is heading to Nintendo 3DS in Japan, according to a new teaser page at the official Dragon Quest website.
The game, which is called Slime Mori Mori Dragon Quest 3: Daikaizoku to Shippodan, and appears to be pirate themed (kaizoku means pirate in Japanese).
The game looks to take full advantage of the 3DS capabilities, including Wi-Fi, StreetPass, and mulitplayer support. Square Enix has promised full 3D visuals, which is a major shift from the 2D only graphics of the previous titles in the series.
The latest issue of Japan's Weekly Shōnen Jump reports that players will be able to construct their own ships and take them into battle while at sea.
No release is mentioned for North America, but the Japanese release is set for winter 2011.