Exploding chicks and lovesick ninja girls mark the start of a new week in Nintendo Downloads.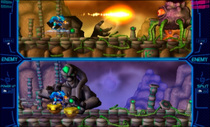 With Valentine's Day underway, Nintendo has rolled out their weekly update of games for their downloadable game services. First off, the Wii receives one full game and two demos.
The full game happens to be Pucca's Kisses Game by Bigben Interactive. Based on the South Korean cartoon of the same name, the game has the title character chasing a ninja boy named Garu in a cartoon-styled game where you must pause in order to prevent danger. The game has been priced at 500 Wii Points ($5).
The two demos are of previously released titles. The first of these is tons of bits's debut title chick chick BOOM. The title has players tossing attacks in turn-based battles, with the object being to wipe out the opponent's chicks. Our review for the game is here.
The second WiiWare demo is EnjoyUp Games's Chrono Twins DX, an adventure title in which players control the main character in two different dimensions at the same time. Both of these demos can be downloaded for free ($0).
DSiWare sees three new titles this week. From Agetec is Treasure Hunter X, a 200 DSi Point ($2) adventure player in which players traverse through various caverns in order to find hidden treasure.
The second DSiWare game for the week is Oscar in Toyland 2 from Virtual Playground. The 500 DSi Point ($5) title is a platforming title featuring lands based on toys and other fantastical elements.
The third and final game for the week is Panda Craze from TikGames. The game is a puzzle-platforming title where the panda must collect all of the lanterns. It too can be obtained for 500 DSi Points ($5).
Once again, there are no new Virtual Console titles available.