The creator of the series will be on hand at the Dragon Quest VI launch event.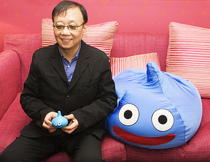 On February 12 in Palo Alto, California, fans can meet Yuji Horii, creator of the Dragon Quest series. Horii will be attending the Dragon Quest VI: Realms of Revelation release party. Fans of the series are invited to GameStop flagship store to celebrate the North American release of Dragon Quest VI.
Dragon Quest VI was originally developed for Super Famicom and never released in North America until now. The new version has updated graphics and features designed for Nintendo DS. Attendees can buy a copy of the game before it hits stores at the event, as well as get autographs from and interact with Horii.
The Dragon Quest series is a rich role-playing adventure that spans many worlds. Players with their allies fight monsters on a quest to defeat the evil bosses they encounter. The series has been around since 1986 and is still going strong.