The newest Kingdom Hearts will feature lots of flying and falling in 3D.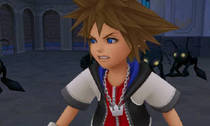 Kingdom Hearts 3D's official Japanese name is now Kingdom Hearts 3D: Dream Drop Distance, according to Andriasang.

Revealed at Square Enix's 1st Production Department event in Japan, there was not much more new information released about the game. A teaser site was opened, and a few screenshots were released.

Kingdom Hearts 3D is a new entry in the series, and series stalwarts Sora and Riku will be playable. There will be more of an emphasis on speed this time around, complete with moments of falling and flying that will make heavy use of the 3D effects.