Mario, Pokemon, Mario, Kamen Rider and more Mario rule last week's sales charts.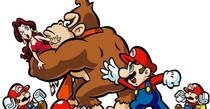 Despite the one-million-plus debut of Capcom's Monster Hunter Portable 3rd for the PSP, several Nintendo titles appeared at the top ten of Japan's Media Create sales charts. At third place was Mario Sports Mix for the Wii, which sold 59,007 units for a total of 143,991 copies sold since its debut on November 25.
Debuting in the fourth spot was Mario vs. Donkey Kong: Mini-Land Mayhem for DS. The title sold 57,474 units in its debut week. In sixth place was another DS title, Pokemon Black/White. 54,848 copies were sold for a total of 4,548,954 units sold. In seventh place was the Super Mario Collection (All-Stars) special release for Wii, which sold 45,904 copies for a total of 659,319 sold.
Momotaro Railway: World for DS from Hudson Soft debuted last week with 45,126 units sold. Rounding out the top ten was Kamen Rider: Climax Heroes Os for Wii from Bandai Namco. Its debut numbers were 35,132 copies sold.
The full Media Create list is as follows:
01. / 00. [PSP] Monster Hunter Freedom 3 (Capcom) {01/12/10} - 1.950.717 / NEW
02. / 00. [PS3] Tales of Graces F (Bandai Namco) {02/12/10} - 215.187 / NEW
03. / 03. [WII] Mario Sports Mix (Nintendo) {25/11/10} - 59.007 / 143.991 (-31%)
04. / 00. [NDS] Mario Vs. Donkey Kong: Miniland Mayhem (Nintendo) {02/12/10} - 57.474 / NEW
05. / 01. [PS3] Gran Turismo 5 (SCE) {25/11/10} - 55.682 / 486.389 (-87%)
06. / 05. [NDS] Pokemon Black / White (Pokemon Co.) {18/09/10} - 54.848 / 4.548.954 (+27%)
07. / 04. [WII] Super Mario All-Stars (Nintendo) {21/10/10} - 45.904 / 659.319 (-3%)
08. / 00. [NDS] Momotaro Railway: World (Hudson) {02/12/10} - 45.126 / NEW
09. / 00. [PSP] Kamen Rider: Climax Heroes Os (Bandai Namco) {02/12/10} - 36.856 / NEW
10. / 00. [WII] Kamen Rider: Climax Heroes Os (Bandai Namco) {02/12/10} - 35.132 / NEW
11. / 10. [WII] Wii Party (Nintendo) {08/07/10} - 30.900 / 1.263.462 (+26%)
12. / 00. [WII] Taiko Drum Master Wii 3 (Bandai Namco) {02/12/10} - 29.328 / NEW
13. / 07. [NDS] Super Fossil Fighters (Nintendo) {18/11/10} - 22.511 / 91.534 (-14%)
14. / 11. [NDS] Magician's Quest: The Merchant's Store of Sorcery (Konami) {11/11/10} - 22.091 / 109.613 (-1%)
15. / 02. [NDS] Super Robot Wars L (Bandai Namco) {25/11/10} - 19.556 / 148.610 (-85%)
16. / 18. [WII] Kirby's Epic Yarn (Nintendo) {14/10/10} - 18.278 / 231.773 (+32%)
17. / 13. [WII] Wii Sports Resort (w/ Remote Plus) (Nintendo) {11/11/10} - 18.146 / 61.655 (+5%)
18. / 08. [PSP] Dangan-Ronpa (Spike) {25/11/10} - 14.340 / 39.904 (-44%)
19. / 22. [WII] Mario Kart Wii (Nintendo) {10/04/08} - 14.207 / 3.001.325
20. / 00. [NDS] A Penguin's Troubles: The World (Konami) {02/12/10} - 14.046 / NEW
21. / 23. [WII] New Super Mario Bros. Wii (Nintendo) {03/12/09}
22. / 17. [PSP] World Soccer Winning Eleven 2011 (Konami) {18/11/10}
23. / 00. [WII] Naruto Shippuden: Gekitou Ninja Taisen! Special (Takara Tomy) {02/12/10}
24. / 09. [NDS] Power Pro Kun Pocket 13 (Konami) {25/11/10}
25. / 16. [PS3] World Soccer Winning Eleven 2011 (Konami) {28/10/10}
26. / 00. [NDS] Crayon Shin-Chan: Shokkugan! Densetsu o Yobu Omake Daiketsusen!! (Bandai Namco) {02/12/10}
27. / 06. [PS3] Call of Duty: Black Ops (Subtitled Edition) (Square Enix) {18/11/10}
28. / 14. [PSP] Tactics Ogre: Let Us Cling Together (Square Enix) {11/11/10}
29. / 20. [PSP] God Eater: Burst (Bandai Namco) {28/10/10}
30. / 28. [WII] Super Mario Galaxy 2 (Nintendo) {27/05/10}
31. / 27. [WII] Wii Fit Plus (Nintendo) {01/10/09}
32. / 00. [NDS] SD Gundam Sangokuden Brave Battle Warriors: Shin Mirisha Taisen (Bandai Namco) {02/12/10}
33. / 35. [NDS] Tamagotchi no Narikiri Challenge (Bandai Namco) {11/11/10}
34. / 34. [NDS] New Super Mario Bros. (Nintendo) {25/05/06}
35. / 41. [NDS] Friend Collection (Nintendo) {18/06/09}
36. / 32. [NDS] Art Academy (Nintendo) {19/06/10}
37. / 40. [PSP] Monster Hunter Freedom Unite [PSP the Best Reprint] (Capcom) {24/12/09}
38. / 33. [NDS] More! Stitch! DS Scribble Battle Through Rhythm DS (Disney Interactive) {18/11/10}
39. / 00. [NDS] Metal Fight Beyblade: Choujou Kessen! Big Bang Bladers (Hudson) {02/12/10}
40. / 00. [PSP] Sengoku Hime 2 Arashii: Hyakka, Senran Furu no Gotoku (System Soft Alpha) {02/12/10}
41. / 19. [NDS] Minna to Kimi no Piramekino! (Bandai Namco) {25/11/10}
42. / 00. [PSP] Wand of Fortune: Mirai e no Prologue Portable (Idea Factory) {02/12/10}
43. / 00. [NDS] Taiko Drum Master DS: Dororon! Battle With the Ghouls!! (Bandai Namco) {01/07/10}
44. / 12. [PSP] Little Busters! Converted Edition (Prototype) {25/11/10}
45. / 15. [PS3] Trinity: Souls of Zill O'll (Koei Tecmo) {25/11/10}
46. / 25. [PS3] Dragon Ball: Raging Blast 2 (Bandai Namco) {11/11/10}
47. / 50. [NDS] One Piece: Gigant Battle (Bandai Namco) {09/09/10}
48. / 42. [PS3] Beat Sketch! (SCE) {21/10/10}
49. / 46. [WII] FlingSmash (Nintendo) {18/11/10}
50. / 00. [NDS] Mario Kart DS (Nintendo) {08/12/05}