Five Final Fantasy characters and Mii support will be in the final version of the game.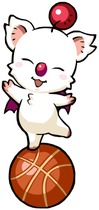 The Japanese Mario Sports Mix website has been updated to reveal five new characters. The game is being developed by Square Enix, and the new characters come from the Final Fantasy series. The characters are Black Mage, White Mage, Ninja, Cactuar, and Moogle. Each character has their own play style. Moogle, Cactuar and Black Mage have been labeled as Tricky characters, White Mage is a Technique character, and Ninja is an All-Around character. These play styles affect the characters' performances.
This isn't the first time that the Mario franchise has crossed over with Square's franchises. Mario Hoops 3-on-3 for the DS, also developed by Square Enix, included the same Final Fantasy characters. Itadaki Street DS had the Mario characters interacting with Dragon Quest characters in a board game-like style.

In addition to the character reveal, the website confirms that Miis, All-Around characters, will be playable as well. The character section also has a blank space for a yet to be revealed character.
Mario Sports Mix is set to be released in Japan on November 25, 2010. No release date for the other regions has been confirmed.