From EA's North Carolina studio, Madden 3DS will feature a season mode, a 5-on-5 mode, and 3D effects.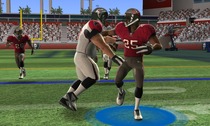 Madden NFL Football will be a 3DS launch title, according to publisher EA Sports.
The latest iteration of the popular football title will feature every NFL team in 3D graphics. Utilizing the different play call modes, ranging from conventional to GameFlow, popularized in Madden NFL 11, the title will feature a season mode instead of the series' typical franchise mode. The season mode can be played through with the traditional 11-on-11, or the arcade-like 5-on-5.
Madden NFL Football will also make use of two features used in the Wii versions of the series. Call Your Shots will allow you to use the 3DS touch screen to change your plays on the fly. Spotlight Moments focus in on game-changing plays and require to perform quick mini-game-esque events to make your player do better.
This is the first Madden game on a Nintendo handheld since Madden NFL 09 for DS.