Four games expected around launch, more to follow.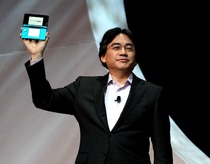 Following Nintendo's Financial Results meeting today, where figures for all of Nintendo's sales and profits for hardware and software were released to investors, a supplementary information document gave a launch schedule for October 2010 onwards, including a preliminary list of Nintendo published games for Nintendo 3DS.
The release schedule shows the 3DS hardware release dates that have already been confirmed, February 26, 2011 for Japan and March 2011 for US/Europe, and also gave release windows for some games that have already been announced.

Nintendogs + cats, PilotWings Resort, Steel Diver, and The Legend of Zelda: Ocarina of Time 3D were all listed for a Spring 2011 launch. Kid Icarus Uprising was given a date of simply 2011, and Star Fox 64 3D, Animal Crossing, Paper Mario, and Mario Kart were all listed as TBA. The US/Europe listings had the same games, but all releases were TBA.

It is noted in the document that game titles and launch schedules are subject to change. The listings are given below.

Japan
Nintendo 3DS - 2011/2/26
nintendogs + cats (Temp.) - 2011 Spring
PilotWings Resort (Temp.) - 2011 Spring
Steel Diver (Temp.) - 2011 Spring
The Legend of Zelda: Ocarina of Time 3D (Temp.) - 2011 Spring
Kid Icarus: Uprising (Temp.) - 2011
Star Fox 64 3D (Temp.) - TBA
Animal Crossing (Temp.) - TBA
Paper Mario (Temp.) - TBA
Mario Kart (Temp.) - TBA
US/Europe
Nintendo 3DS - 2011/3
Animal Crossing (Temp.) - TBA
Kid Icarus: Uprising (Temp.) - TBA
Mario Kart (Temp.) - TBA
nintendogs + cats (Temp.) - TBA
Paper Mario (Temp.) - TBA
PilotWings Resort (Temp.) - TBA
Star Fox 64 3D (Temp.) - TBA
Steel Diver (Temp.) - TBA
The Legend of Zelda: Ocarina of Time 3D (Temp.) - TBA