The voice of Duke Nukem will be lending his distinctive vocals.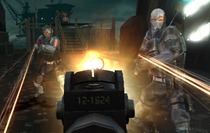 At a Sega event a short while ago, we were informed that in Conduit 2, Jon St. John will be providing the voice for the protagonist, Agent Michael Ford. Jon St. John is well-remembered for his witty utterances in Duke Nukem 3D where he voiced the titular character. He was also the voice of Big the Cat in Sonic Adventure.

The original Conduit featured a slew of talented voice actors such as Kevin Sorbo and Mark Sheppard, but scheduling conflicts prevented them from being able to return for the sequel.

Conduit 2 releases exclusively for Wii in February 2011. The game's development time has been extended by a few months from the originally announced release.