Members can now get a Mario screensaver or commemorative pins.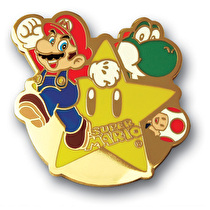 Nintendo is adding five new rewards, a screensaver and four pins, for Club Nintendo members that celebrate Mario's 25th anniversary.
The first is the "Evolution of Mario" screensaver, available for 10 coins, that shows gameplay footage from all of Mario's past games, including his latest, Super Mario Galaxy 2.
The four pins, available for 450 coins each, feature original 2D artwork. In addition to featuring Mario, some of the pins also have Peach, Toad, and Yoshi on them.