Sonic games with a below average Metacritic score will no longer be on sale.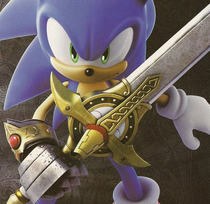 Sega have announced that they have de-listed Sonic titles with average or below average Metacritic scores. From now, such titles will no longer be available to buy new at retail.

"Any Sonic game with an average Metacritic has been de-listed," Sega's SVP of EMEA Jurgen Post told MCV in an interview. "We have to do this and increase the value of the brand. This will be very important when more big Sonic releases arrive in the future."
He stated that the number of Sonic games should be kept under control to avoid cannibalising the brand, citing that if there are ten Sonic games on shelves and people see titles such as Sonic Rush DS or Sonic Rush Adventure, it may not help with overall strategy as multiple Sonic titles targeted at different demographics will be released this holiday season.

Judging by Sega's criteria, Sonic Riders: Zero Gravity and Sonic and the Black Knight will be among the de-listed games.