The latest DS Kingdom Hearts title will see a release early next year.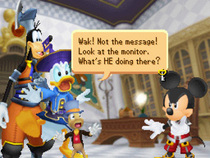 Square Enix recently opened their North American website for Kingdom Hearts Re:coded, the second Kingdom Hearts game to be released for the DS. The official website revealed the release date, and a press release has confirmed that the US launch will be January 11, 2011.

Kingdom Hearts Re:coded takes place after the end of Kingdom Hearts II. When King Mickey discovers a mysterious entry on Jiminy's journal he decides to investigate by going into the datascape and visiting the Disney worlds once more.
Coded was originally a title for Japanese cellphones. The DS remake includes new gameplay modes and new cutscenes.