The online multiplayer will be rank-based and the Wii Remote and Nunchuk controls will feature lots of options.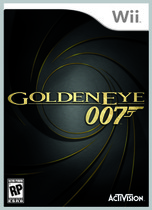 A recent conference call with Execute Producer Julian Widdows shed light on the online multiplayer and control of Activision and Eurocom's upcoming GoldenEye Wii game, as well as why Oddjob is the only one with a special ability and what Widdows thinks of the 3DS.
The online multiplayer, which hasn't really been detailed yet, will feature rank-based progression that is naval themed. Through the different ranks you'll unlock different weapons, attachments, and add-ons. There are even gadgets, such as timed mines and high-capacity magazines, and new modes, such as License to Kill and Classic Conflict, to unlock.
Online differentiates itself from the local multiplayer through different objective-based modes. One, called Online Control, has two teams trying to gain control of the GoldenEye satellite by hacking laptops.
The Wii Remote and Nunchuk control offering on GoldenEye 007 that features the pointer (different from the non-pointer-using one that we detailed last week) has a number of options that you can tinker with. The cursor and gesture sensitivity can be altered, as can the dead zone and the max turn zone. You can also have the screen automatically re-center and have it turn when you drift off-screen.
In the game, Oddjob has the ability to throw his hat, and around E3 2010, there were rumors that more characters were going to have special abilities. However, Oddjob will be the only character to have one. Eurocom kicked around the idea of having Jaws bite people, but apparently the result wasn't too great and didn't fit with the game.
Widdows offered up his reaction to the 3DS as well, and stated that he'd love to see GoldenEye show up on the system, though there's nothing in the works. "The moment I looked at it I was like 'Oh my god! It's actually three dimensions,'" Widdows said. "I'm really impressed by it. I can't wait."
GoldenEye 007 is coming out on Wii on November 2.