ASCII Media Works brings the gaming world its first 3D fishing experience.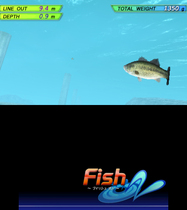 ASCII Media Works has announced Fish On for the 3DS. As the name would imply, Fish On is a fishing game. It allows players to fish for various real-world fish using a selection of lures.
The screenshots released show underwater images of various fishes, fishermen in boats, and various structures that the player will presumably be able to fish around.
ASCII Media Works is a multifaceted company that publishes books, manga, magazines, and videogames. Their games tend to be visual novels and adventure titles. They have published a large number of visual novels on both the DS and PSP in Japan.