Super Monkey Ball 3D, Sonic, and more expected by March 2012.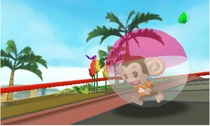 Sega's Nintendo 3DS annoucements today are that six games are currently in development and will be released by the end of the 2011 fiscal year (March 2012).

The only title revealed so far is Super Monkey Ball 3D, aimed for a spring 2011 launch in Japan and Europe. The accelerometer and Slide Pad are used to give more direct controls. There will be two wireless modes, Monkey Race and Monkey Fight, mini games from the previous Monkey Ball games. Arabic, Jungle, and Space levels have been shown in screenshots.

Titles for the other five games will be revealed gradually, but a Sonic 3DS title has been confirmed.