Capcom announces Resident Evil: The Mercenaries 3D.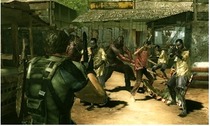 A second Resident Evil title for Nintendo 3DS from Capcom has been revealed. Resident Evil: The Mercenaries 3D is a spin-off title with a series of timed combat levels where players compete against the clock to defeat as many enemies as possible.
The Mercenaries missions from Resident Evil 4 and Resident Evil 5 are remade for this title, with new modes and characters from the series. It will have online co-op through the 3DS's WiFi capabilities.

Resident Evil Revelations was the first announced 3DS Resident Evil game, revealed at E3 2010. It is an original entry in the Resident Evil series.