Also, Shantae: Risky's Revenge will not be episodic.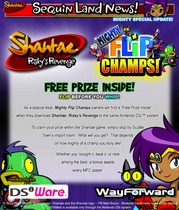 If you own Mighty Flip Champs, WayForward's first DSiWare release, then you will get a bonus in their upcoming DSiWare release, Shantae: Risky's Revenge, according to WayForward's Shantae-focused newsletter.
You'll be able to get the free gift by going to the import room in Scuttle Town. Depending on how much of Mighty Flip Champs you completed, you will get a different gift.
Also, the October 4 release of Shantae: Risky's Revenge will be the full game, and not the episodic adventure that was originally promised. It will be available for 1,200 DSi Points.