News regarding Tecmo's 3DS efforts are revealed at TGS 2010.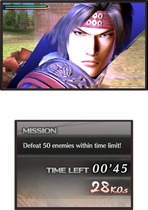 At TGS 2010, Tecmo has offered some details for their Nintendo 3DS projects. The first of these is Samurai Warriors 3D, which has received a new title: Samurai Warriors: Chronicles. The full Japanese name is Sengoku Musou Chronicle. This game was demonstrated previously at E3 2010, we have impressions from the previous build here.

Also, the official site for Dead or Alive: Dimensions is live. The site offers new images of the 3D fighter in the gallery section along with a promise of a new trailer to be revealed soon.